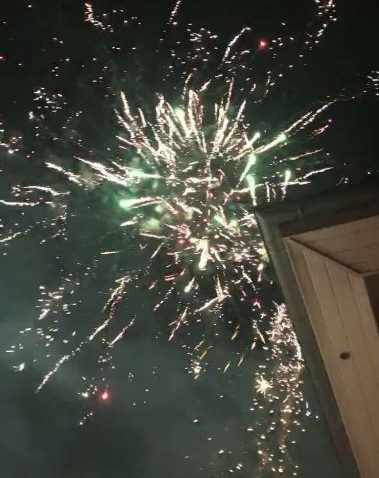 The world celebrated New Year´s Eve with big fireworks. The people revel with their families or with friends and shot rockets at midnight.
I celebrated New Year´s Eve with three of my friends. We met at my friend's house at 6pm, where we ate first. We did Raclette and drunk non-alcoholic sparkling wine. After that we went outside and took pictures of us and had a lot of fun. After we had gone back inside we played games at the Playstation. We had to dance, that was so funny. We also listened to loud music and sang as loud as we could with it. I think the neighbours were annoyed by us, but we thought "It´s New Year´s Eve, we can do that." Time was running and so we needed to go the aunt of my friend at 11.30 pm. After we had arrived there, we listened to music too and at midnight we toastet to New Year together. We shot batteries and rockets in the air and said hello to 2018.
At 1am we went to another friend´s home and talked about Christmas or other interesting things. We couldn´t sleep and so we listened to music. But between 5.30am to 6am everyone was asleep The new year started perfectly with my friends.