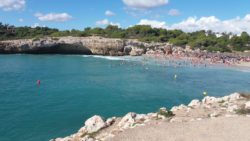 A warm feeling because the sun shining on your skin, people dancing, the sound of the sea and relaxation. It´s a perfect holiday. This and more you can experience in Calas de Mallorca.
| | |
| --- | --- |
| Country: | Spain |
| Island: | Mallorca |
| Inhabitants: | 1059 |
Traveling to Calas de Mallorca is a good idea. It´s a part of Manorca in Mallorca in Spain, between Porto Cristo and Portocolom, north of Cala Murada. The whole place is at limestone cliffs.

You can travel there by plane to the Palma de Mallorca airport and then go by bus or a rented car to your hotel. The temperature is between 17 to 30 degrees in summer, between 14 and 18 degrees in autumn, between 6 and 18 degrees in the winter and between 8 and 22 degrees in spring. Therefore, it is advisable to visit Calas de Mallorca in the summer because the best thing to do there is to relax in the sun at the beach. The prices of the hotels are unfortunately quite high at the moment.
Many middle class hotels with all-inclusive apartment facilities, restaurants, bars and shops  can be visited there. Moreover, you can eat Spanish, Italian, Indian, Mediterranean and European food. In the shops they sell many souvenirs like shirts, cups, magnets, bags, things that are useful for the beach and much more.
I stayed at the hotel "Cala Romaní Club" where you can eat nearly the whole day and can drink many drinks at any time of the day. Besides, there is a big pool and a room where you can watch shows every evening. Many houses and buildings are in orange and yellow shades which makes you feel good because they are warm colours. The roofs are flat. The sidewalks consist of small white quadratic stones. If you look to your left or right side, you can´t only see palms like many people imagine Mallorca, because there are other plants, too.
Moreover, there are two places to play mini golf, places to play tennis and more. Additionally, sand beach bays like Cala domingo gran, Cala domingo petits and Cala antena are a good way to relax or to to experience the sea on a pedal boat. Furthermore, the three bays own the blue flag being a label for excellent water quality and beach service. To feel the warm sand and listen to the waves or to look  at the sunset in the evening is a wonderful feeling.
If you need information about the place or need to know what you can visit, for example, for one day, you can go to the tourist information in the centre of the town. You can rent a car to drive to the cathedral of Mallorca or to the Coves del drac where you can look at the stalactite cave when you are on a boat or at the passages, too.
In my opinion, it is a very beautiful and pleasant experience.  All in all, Calas de Mallorca is a great holiday place and I would go there a second time.
text/photos: S.Hrd , sources: Klima.org, Wikipedia